ROGER LINDY MCAULEY SR.
MAY 23, 1928 - JULY, 1996

Roger Lindy McAuley Sr., born in the late twenties, grew up in a small town in southern Texas (Donna, Texas). Not a lot was known about his family. They were poor. I remember Dad telling me that he and his brother would go out in the afternoons after school and hunt for their supper. They were close to the Mexican border and Spanish was a second language for anyone growing up in this area.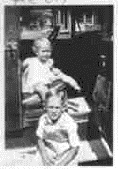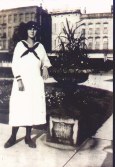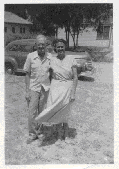 In high school he grew to over 6'5" and found that his football abilities were beyond his peers. You have to remember that in the 40's a man that size was unusual compared to today. As it was, he was offered a scholarship to play football for Texas Christian University in Fort Worth, Texas. He told me many times that without football he would not have been able to get an education ...due to obvious financial concerns.

He did very well at Texas Christian. He played both tackle and guard. By his junior year he was selected to play in the annual Blue-Grey game. The best players in the nation were picked for this game and he was proud of his participation.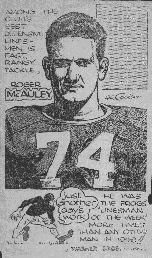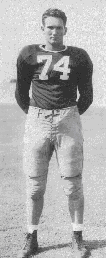 He once told me a story about a football practice they had following a big game the previous day with the Arkansas Razorbacks. He said that the Arkansas game was always a bitter battle, and that the starters for TCU were always pretty beat up and tired the next few days after the game. Anyway, they were practicing, and a teammate (a guy that never played much) lined up across from him was gung ho and trying to knock Dad silly. After a couple of times, Dad told him to ease up. The guy continued and Dad turned on his own jets and dropped him cold the next play, not to mention that the guy lost all his front teeth from a good forearm. In those days the helmets were not as high tech and protective as that of today. In fact, Dad wore a leather helmet while playing during his high school years.

Also, in college he had the privilege of meeting and falling in love with a beautiful woman whose name was Evelyn Suzanne Best. She had come to TCU where her father was Professor of Music Education. She was studying English, and Dad was studying Geology.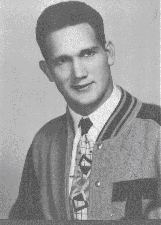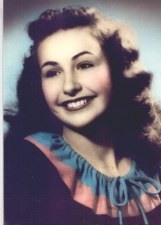 As a result of their love, they married and within a few years had two children, Cathy Lynn and Roger Lindy Jr.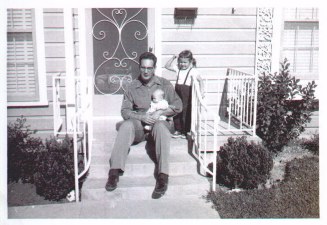 After graduation, Dad was drafted by the New York Yankees (football) to try out for the professional team. Below is the telegram he sent Mom from New York when he was informed that he made the team. He was offered $12,000 per year to play. At that time it seemed like a lot of money.

He played for two years and decided it was time to move on. Today's football players have the luxury of having much better technology in knee surgeries for the players. But in those days it was primitive at best. He had both of his knees cut on multiple times because of injuries and really didn't want to make them worse. I noticed that by the time he was in his fifties he had a noticeable limp as a result. He did eventually have both knee joints replaced in his early sixties. That he said made him a young man again.

While in college, Dad met up with a group of men who loved the sport of skin diving. He found that he too enjoyed it more than average and made a bond with this group that would last for life.

After college these men, although spread out around the United States, would meet down in the Yucatan waters of Mexico. They did this on a yearly basis for many years. Down in Mexico, they would dive (on a breath of air) up to 100 feet deep and pull up fish anywhere between 50 and 600 pounds apiece. It was not uncommon for these guys to pull up a 400+ pound grouper on a dive. At one time most of these guys had world record fish for skin diving. Dad's record fish was a Golden Grouper that weighed in at around 74 pounds. They had special spear guns that one of the guys made. The gun would enable them to go deep, shoot the fish, and return to the surface as quickly as possible. After the fish was speared, the gun would inflate and you could release it. It would go on up to the surface while you were doing the same to find air. Then the one who shot the fish would find his buddies and gather to go down and pull the big fish out of a cave or wherever.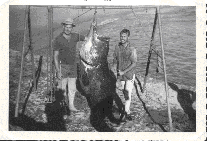 I remember while I was very young seeing dad working with Plexiglas making a casing for his camera that would enable him to film underwater. Today, that type of case is no big deal. Then it was unheard of. Night after night he would work using the bathtub to sink his nice camera into, looking for the perfect casing. He succeeded, although in his latter years said his version was pretty weak compared to those being made now. He made a case for his movie camera and one for his regular camera. He had a film he had made in the 60's of an encounter with a shark he had while diving without a spear gun. He always said that a shark is like a dog and the worse thing you can do is become frightened and swim away from it. Like a dog it will chase you. Anyway, the film shows this shark that was probably around eight feet long coming directly towards him. Dad stood his ground and continued filming the shark. Right as the shark was within a few feet of him it darted off to the side and made a big circle and then started coming directly towards him again. Again, Dad held his ground filming... This time as the shark got near him, one of his buddies who was near by, who had seen what was happening, swam down and shot the shark with a spear when it was within ten foot of Dad. To Dad it was no big deal. In later years when Dad lived in Australia and could not meet them on one particular trip, one of his buddies wasn't as fortunate. A shark had bit the leg off of one of his friends, and the man died before they could get him to shore. Dad was sad but knew that was one of the dangers of the sport... and accepted it.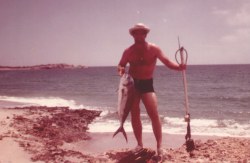 After football, Dad started a career in Geology. The oil business was big in Texas, Oklahoma, and California. He lived in all three states over a period of ten years. He remarried and divorced again by the time he was in his late thirties during which he had another son named Mark.





He had reached a point where he wanted a change in his life but wasn't sure what direction to go. He found out that freighters that crossed the oceans would sometimes take on a small number of passengers. That caught his eye. Traveling this way was slow, for at each respective port the boat would sometimes stay a week or more, but would soon continue the trip around the world. This was perfect for him. He could see the world and not be in a hurry while doing so. He sold most of his possessions and jumped on a freighter. He mentioned that there were around 15 passengers on the boat. They were people from all over the world. He met one couple, a retired Australian man and wife who he quickly befriended and would remain close to the rest of his life. The story goes that when the boat reached Australia he knew he had found what he was looking for--an incredibly beautiful country that is home to some of the best diving spots in the world. It had the weather that he would later say, was what the Californians thought they had. The people were kind and very welcoming, and finally they had a booming oil industry. The boat docked in Fremantle, Australia, which is like a suburb to Perth, Australia, on the western coast. He got off the boat to check it out. By the time he returned to the boat that evening, he had secured a job with an American based Oil Company.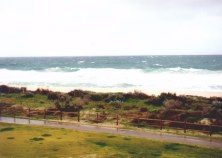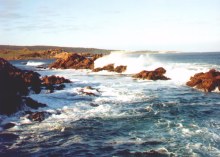 He then found a home that he could use his money (from the selling of his belongings in the U.S.) for a down payment. He rented out the two spare bedrooms to help defray the costs. He rented one room to a young Englishman who had immigrated to Australia to start a new life, and rented the other to a Yugoslavian (Bosnia) man in his late twenties doing the same.

Two years later I was graduating from high school in a small town in Kansas (Chanute), and Dad returned for the ceremonies. While in Kansas he asked me if I would want to come spend a year with him before I made my college plans. That was a dream come true for a kid who grew up in the middle of America where the ocean was just a picture on those nice calendars. It was a wonderful chance for me to get to know my father better, and also get a glimpse of a place many only dream about.

It was a great year. Dad and I did everything. We dove all the islands of the coast. We sailed his boat the "Cathy Lynn," as our transportation. We were more like brothers than father-son. We even double dated, which he stated many times, his date was prettier and younger than mine. I think he needed glasses at that point...

His work would put him for extended times on offshore rigs. Usually, he was gone for two weeks at a time. He would then get two weeks off. Each time upon his return, he would spend a day doing catch up on tasks like laundry, bills, etc.; then we would load the boat with supplies and diving gear, and leave for sometimes up to a week.

I got to swim with sea lions, get more lobster (crayfish - Australian term) than a whole army could eat, and see the underwater life in one of the most beautiful oceans in the world, the Indian Ocean.

There was one island where we often dove (Rottness). It had as one of its inhabitants a kangaroo than got no bigger than two feet tall. The first time I encountered one of these miniature kangaroos was a learning experience. We were out on the boat anchored around 75 yards from the shore. I dove over and swam to shore. Within seconds one of these kangaroos came hopping right before me and stood there like a cute puppy. Instinctively I reached down to pet it. The kangaroo immediately bit a chunk out of my finger and dashed into the brush. I could hear the laughter from the boat as I realized these little creatures weren't as friendly as they appeared.

After ten months with Dad, he was informed that he was being transferred to South America. He really didn't want to leave Australia, but having lived in South America before, he accepted it, knowing that he would return when possible.

I returned to Kansas, and he took off to Venezuela.

While in South America, an Australian woman (Gillian) whom he had dated for a couple of years joined him. They flew to Cancun, Mexico and were married. This marriage would prove to be his longest. They were married over 23 years up to his death. She too was quick witted and intelligent, and they made a good couple. She loved the ocean and would join him in any adventure.

After two years in Venezuela, his company decided they needed him in Houston, Texas. They moved to Texas and he worked as the International Sales Manager for Exlog Exploration.

He never cared much for Houston. He felt it was too big and didn't like the ocean there. It was very dirty with a sediment base with no limestone reefs to clean it. After four years he told the company management that he wanted to return to Perth, Australia. Either the company could transfer him, or he would quit and return. He had reached his fifties and felt he wanted to live his life out where he wanted. He had to take a demotion, but the company held on to him and returned the two to Perth. He didn't care at this point in his life about making less money. He was ready to enjoy life even more.

He and Gillian returned to Australia.

Over the years Dad started buying homes in Australia as an investment to maybe help him in his retirement years. Australia, in the 1980's, went through a high inflation rate and as a result, the value of his investments grew remarkably well. During my trip to visit Dad after high school, the friends that he had met on the freighter told him of a home next door to them that was for sale. His friends lived about 200 yards off the coastline. In Australia the government owns all beachfront property. The property was contiguous with the government property and nothing could be built between them and the coast of Africa. Anyway the neighbors sold Dad the home and property for $5,000. He had many offers for the property over the years, but finally sold it after around 20 years. This was great, for through the years, Dad never made a lot of money in the oil and gas business. He made a respectable income but nothing that would lead him to easy street. As a result of his wise investments, he would eventually live quite comfortably.

After their return they quickly got back into the life they had worked so hard for. Dad found a spot on the beach about 300 kilometers North of Perth where he could set an old mud logging unit (a small structure about 25 x 10). This would be a spot where he could go and escape the rest of the world to fish, dive, and relax. This proved to be one of the places he loved more than ever. After he retired, he would sometimes spend weeks at a time there. The spot was nestled into a small bay, with large cliffs hiding him from each side and a nice beach right at his front steps. The ocean in front of it was full of limestone reefs that were home to all creatures of the sea. The lobster (Australians call it crayfish), were living there in armies...thousands. It was incredible to say the least. Dad called his place "The Shack." From that point on, Dad's refrigerator always had lobster and fish in it.

In 1992, I returned to Australia to spend some time with him. His health was poor, with a heart that just wasn't working that well. At the time he was 64 years old. I spent six weeks there and again got to do things that just were almost overwhelming. We spent a week on a friend's farm in the vineyard area in southwest Australia. Dads friend who owned the property had this beautiful land that he raised a few cattle and farmed fruit trees. He would ask Dad to go and check up on the farm while he was out of town. Dad loved it. He could relax and read. He could hunt and enjoy the most beautiful scenery in the world. While I was there, I would see flocks of pink or white cockatiels parrots flying in groups of 100 or more returning to their nests at night in the tall trees that surrounded the farm. These trees were also the home for the kookaburra bird. They make the most incredible call that resembles monkeys chattering in the trees. When I first heard it I thought I must be in a jungle because I could hear monkeys everywhere.



On the third morning Dad awakened me right before sunrise. He didn't immediately say what we were going to do, but I had an idea and was right. He pulls out two rifles of his and mentioned we were going hunting. We were walking through a forest area as the sun was rising. Those monkey sounds were everywhere and Dad made the comment, "You're going to get your first kangaroo." I had grown up in Kansas where I hunted duck, quail, and dove, but never had shot anything that didn't fly.

The kangaroo found in this area is the Red Kangaroo. They grow to be very big. The males sometimes get over six feet tall and weigh over 200 pounds. The kangaroo is a grazer and will come out of the bush to eat grass. They don't care much for humans and a person has to be good to sneak up and get a shot. Long story short... I got my first kangaroo. Dad's comment then was, "Now, you get to clean your first kangaroo." Without going into detail, it was an experience skinning, gutting, and cleaning this giant rabbit. If you're wondering if Dad went out to just kill these critters, think again. He liked the sport of hunting, but the real purpose was for the food. I guess it was something that he got from his youth and stayed with him for life. As it was, he made a kangaroo roast that evening, and we ended up fighting over the last piece. It was delicious.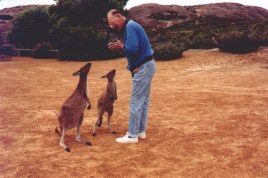 We also spent a week at the Shack for a little diving and relaxation. When we got there, I told Dad he ought to let me do the diving and we could feast each day with my catches. Dad's health was to a point that his doctor had told him no more diving, and maybe I could talk him into relaxing and let me do the work. He wouldn't have it. As we entered the water for our first dive he made the comment to me that he wasn't going to sit in a rocking chair and wait for the inevitable. Besides he had lived off the ocean all his life and if something happened to him, the ocean could live off of him. Kind of a crude statement, but you could see in his eyes that he was dead serious. We dove for a little over two hours, and I was proud because I had snagged about thirty lobsters. He pulls his bag out and has over 80 lobsters in it. It was unbelievable. I was in pretty darn good shape at age 37, but couldn't keep up with him at 64. I would go under the water (on a breath of air), spot the lobster in his cave, snag him, and then return to the surface to bag him. Dad would go down pull the lobster out move to the next cave, and get another one, and then try the next cave before he would return to the surface for air.

We ate like pigs, and the cat loved us beyond the norm. He would have lobster in all his meals. After each dive we would flip a coin to see who got the hammock, and the other would grab a bunk. The sea breeze would arrive each day about 2:00 PM. This refreshing breeze would cool what was an 85 degree day to one of beauty at 70 degrees. It sure made for a good nap. We needed the extra energy to fix the food feast we would have each respective evening. We would follow this by playing some cribbage each night before going to bed early so we could rise early to do the same thing the next day, and the next day...

Also, while visiting Dad this last time he brought out some videos he had made on a trip that he made the previous year. He had equipped his van to take off and spend over six months traveling and exploring Australia from coast to coast, another incredible adventure. He found towns in the desert that were built underground. He found people inviting him into their homes in every area he found, both primitive and developed areas. He spent a few weeks diving what is known as one of the best in the world--the Great Barrier Reef off the eastern coast of Australia. He chronicled the whole trip with his new toy, the VCR camera. He had a lot of fun and was quite proud of his documentary abilities he had discovered with this new video camera.

Over the final three years of Dad's life, you could never accuse him of having sat on a rocking chair. He refused to give in to a heart that just didn't want to tick right. By this time he had gone through four heart attacks, a couple of angioplastigrams, and a pacemaker that he decided he didn't want. He told me many times that he didn't want to grow old. He had always depended on his physical skills and this aging stuff was now creeping upon him.

During these final years Dad and Gillian lived a comfortable life. Dad would spend time at the Shack reading and fishing for big jewfish. Also, the farm in the vineyards was his other refuse. About twice a year, he and Gillian would fly to nearby islands and spend time with their closest friends enjoying those things that a small island in the Indian Ocean could offer. At home, he enjoyed time in his "doghouse."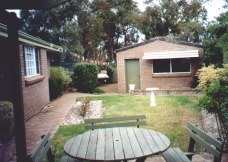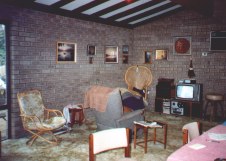 Gillian would find herself entertaining and playing a lot of bridge with her friends during the times that Dad would venture off to do his own thing. Gillian mentioned to me after his death that one of the reasons that their marriage was successful was because she didn't mind him leaving on his adventures without her. She knew he was an individual who had to have this in his life and respected that. Besides, she really enjoyed her time alone probably as much as he did.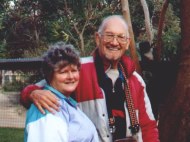 On Dad's last trip, it was one on which he would go alone. The government had made him move his shack off the land he had occupied for over twenty years. He had found a new beach area near the old one, where a friend of his had a vacation home just across the beachfront land. He was now using this spot to replace the Shack. Gillian told me he was loading his small trailer to his van and she had heard him cussing about something. She came out and found he was upset because his right arm wasn't working well that day supposedly due to a stroke he had had a few months earlier. She said he didn't look well and asked him to postpone this trip. The stubborn man that he was refused and finished loading all the supplies he would need and took off. Gillian sensed something was wrong but didn't realize she would never see Roger again.

A friend of Dad's was to meet him a week after he arrived at the vacation home. Upon arriving the following Saturday, he found there was fruit on the table that had begun to spoil, a TV guide opened to Tuesday, and no sign of Dad. Searches made by police of the area and waters surrounding the area yielded no sign of him. One local person had reported seeing an unidentified object (possibly a body) in the water. Several pieces of clothing (a sweatshirt and underpants) were found washed up on the beach. Due to evidence found and his failing health, Roger Lindy McAuley Sr. was declared as to have died between July 1st and 6th, 1996. It was declared that his death occurred as a result of natural causes or by way of accident.